24th December 2021
Have a great holiday. Assuming we are still permitted to train, classes will restart next year on Wednesday 5th January 2022. (Confirmed 05/01/2022.)
Please look after yourself by getting vaccinated, and look after your training partners by getting tested - regularly or before class. Thank you.
26th July 2021
Adult classes restart on Monday 26th July 2021 at 8pm at the usual place. See you there. Or contact us for further details.
18th March 2020 - Classes suspended
Following government advice, the club is shut for now. Aikido explores the dynamics of two or more people in contact, which makes social distancing impractical. Please stay safe, keep fit, and make sure we have your email contact, if you want to be informed, when training resumes.
Back to County Antrim in Northern Ireland for another seminar. Joining Basingstoke Club instructors were participants from Queen's University Belfast Aikido Club, Antrim Tomiki Aikido Club and others.
11th December 2017
Congratulations to Andrew and Warren, who were awarded 1st Dan.
24th September 2016
Four of the Basingstoke Club instructors travelled to County Antrim, Northern Ireland, to teach at a seminar with Queen's University Belfast Aikido Club and Antrim Tomiki Aikido Club.
During the day, a wide range of techniques were covered, providing an introduction and a bit of background to our Traditional Aikido style.
The seminar was enjoyed by all (as seen in the happy smiles of Sensei Brad's victims!), and was followed by an evening trip to the Ice Hockey.
Many thanks to the hosts and organisers.
Visit by Basingstoke Camera Club
17th March 2014
Several members of Basingstoke Camera Club visited and took pictures of the children's class, followed by some adult training and demonstrations by club instructors.
See them in the galleries.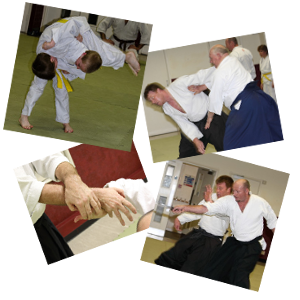 17th October 2013
Sensei Andy Lyon was interviewed live on Radio Berkshire by Paul Ross about Aikido and the Bracknell club.
21st-22nd September 2013
The Basingstoke and Bracknell clubs got together with the Aiki-Budo-Kai in Braintree, Essex for another seminar. Sensei Ellis started the Saturday session with a talk about the history of 'The Hut' and Abbe Sensei.
Friday 3rd August 2012
Derek Eastman and Henry Ellis returned to The Hut Dojo in London for a meeting with TK Chiba Shihan.
Chiba Shihan presented both Eastman Sensei and Ellis Sensei with promotion to 'Shihan' with certification from the Aikikai in Tokyo, Japan. The certificates were signed by the Doshu Moriteru Ueshiba.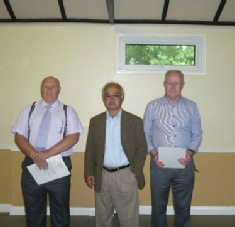 Ellis and Eastman Senseis have taught Aikido in the UK, Europe, USA and Australia during their 55 years as pioneers of British Aikido from the 1950s.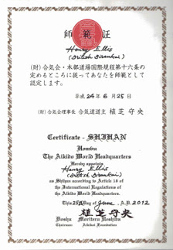 This honour justifies all their efforts over recent years to protect the proud history and lineage of British Aikido from its inception by the legendary Budo Master Kenshiro Abbe Sensei in 1955.
Their teachers were all direct students of O'Sensei Morihei Ueshiba. We are proud to have our grades recognised by legends of Aikido. Diplomas have been signed by: O'Sensei Morihei Ueshiba ( numbers 349 & 363 ), Kenshiro Abbe Sensei, Masahilo Nakazono Sensei, Masamichi Noro Sensei, TK Chiba Sensei & Doshu, Moriteru Ueshiba. The final accolade is the promotion to 'Shihan'.
It doesn't get much better than that!
4th June 2011
A Fun Day at the Oakridge West Comunity Centre went well, with good weather for outdoor activities.
Senseis Derek, Brad and Karen gave an Aikido demonstration and offered local youngsters the chance to have a go at Kendo.
Please see the gallery for some excellent pictures of the event, taken by Basingstoke Camera Club.