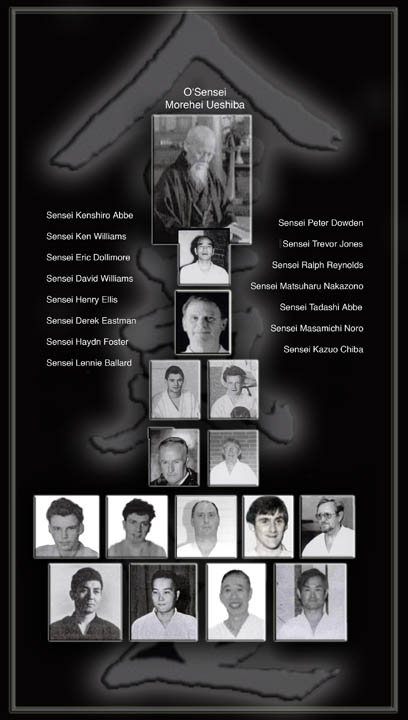 O'Sensei, Morihei Ueshiba founded and taught the martial art of Aikido during the first part of the 20th century. He was strongly influenced by studying Daito-Ryo Aiki-jujutsu under Takeda Sokaku Sensei, gradually developing Aikido as a distinct style thoughout his life.
Kenshiro Abbe Sensei was a highly-talented Japanese martial artist, who studied both Judo and Kendo at the exclusive Busen college in Kyoto, achieving 5th dan in Judo and excelling in several prestigious Judo tournaments at a young age.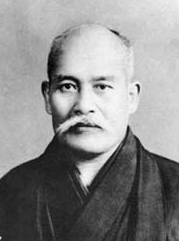 1945-1955 By the end of the war, Abbe Sensei had been promoted to 7th dan in Judo and 6th dan in Kendo. After a fateful meeting on a train, Abbe became a student of O'Sensei and learnt Aikido with him for about 10 years, reaching 6th dan (and later 8th dan). Abbe Sensei studied several other Budo arts during his life, including Karate, Kyudo (bow) and Jukendo (bayonet).
1955 Kenshiro Abbe Sensei arrived in the United Kingdom at the invitation of the London Judo Society (LJS). Abbe Sensei was invited to demonstrate his Kyu Shin Do method of Judo, which he did by executing a forewarned different throw on each contestant in a full line-up of dan grades at the LJS National Judo Championships held at the Royal Albert Hall, London. It was during these championships that Abbe Sensei also demonstrated several of the Budo Arts including Kendo, Kyudo and, as yet unseen in the UK, the martial art of Aikido.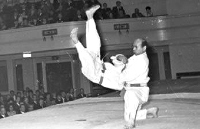 1955-56 Ken Williams Sensei was an accomplished Judoka with the LJS, and was so impressed he became a student of Abbe Sensei. Soon after this, Abbe Sensei became unhappy with the LJS not wishing to encompass his method of Kyu Shin Do Judo, resulting in him ending his contract. Abbe Sensei then formed the British Judo Council (BJC) with the long-established Japanese Judo master, Matsutaro Otani Sensei. Ken Williams and Bill Woods also left the LJS and followed their teacher. Ken Williams became Abbe Sensei's first student of Aikido and the first Aikidoka in Britain, joined by his brother, David Williams, and Eric Dollimore.
Williams Sensei founded a dojo at the rear of a public house called The Hut. The dojo was originally named the Abbe School of Judo, later to become the Abbe School of Budo.
It would become known, affectionately and internationally, as The 'Hut' Dojo.
1957 Aikido was now being taught at the Hut Dojo, at first as "Judo self defence". Only after written permission to teach the martial art of Aikido was granted to Abbe Sensei by O'Sensei Morihei Ueshiba, was this corrected to "Aikido".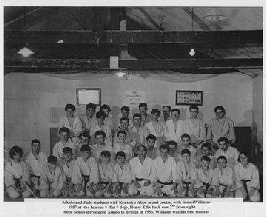 The Hut was now the first and only Aikido dojo in the whole of the UK. The initial few students were joined by Haydon Foster, Henry Ellis, John Cauldwell, Peter Dowdon & Lennie Ballard.
1959 Derek Eastman, later to found the Basingstoke Aikido Club, joined the Abbe school and started practising Aikido at the age of fifteen.
1960-64 By 1960 there were five UK Aikido dan grades, all at the Hut Dojo. From this one humble dojo, the dan grades would travel and teach Aikido throughout the UK. The first five were: K Williams, D Williams, E Dollimore, H Foster & H Ellis.
Derek Eastman soon became Assistant (uke) to Henry Ellis Sensei. As an uke at the Abbe school, this was an amazing time. Abbe Sensei brought the first Japanese Aikido Instructors to Europe to teach at the Dojo, including Senseis Tadashe Abe, Mutsuro (Masahilo) Nakazono & Masamichi Noro. This, along with Karate instruction by Mitsusuke Harada Sensei, and Kendo & the bayonet arts with Tomio Otani, as well as a growing number of mature, hard-practising dan grades, made this Dojo really special.
An Aikido section was included in the Grange Farm Summer Budo Courses, to which Abbe Sensei invited many high-ranking Budoka. Ken Williams Sensei was the UK National Coach for Aikido for the BJC and principal of the now Abbe School of Budo, and Henry Ellis Sensei was the Assistant National Coach.
Meanwhile, another Japanese Judo champion, Senta Yamada Sensei, independently started a dojo in London, where Judo and the Tomiki style of Aikido were taught, and Yoshinkan Aikido was also introduced to the UK by students of Gozo Shioda Sensei and Shigeho Tanaka Sensei.
1964 Abbe Sensei returned to Japan, and subsequently requested that O'Sensei send an official representative of the Aikikai to be based in the United Kingdom.
And Derek Eastman was graded to Shodan (1st dan) by Nakazono Sensei.
1965 At the suggestion of Williams Sensei, Henry Ellis & Derek Eastman travelled the country for a year, living off their wits and whatever work they could find, while spending their evenings and weekends demonstrating Aikido to anyone who was interested. They introduced Aikido to Judo Clubs who had made contact and helped them to establish lines of communication with 'The Hut' and with the satellite Dojos run by Steve Logan, Tom Weir and Ralph Reynolds.
1966-67 Kazuo Chiba Sensei was sent to the UK by O'Sensei and became the first wholly UK resident instructor of Aikido representing the Aikikai of Japan. Henry Ellis Sensei became his assistant and first national coach, leaving The Hut and starting dojos in Bracknell and Slough.
Ken Williams Sensei left The Hut and departed for Wales. He later formed the Ki Federation of Great Britain, after training with Koichi Tohei Sensei in Japan. Haydon Foster Sensei became the new Principal of the Abbe School of Budo.
1968-69 Chiba Sensei and Ellis Sensei held the national summer school in Bracknell, with visiting instructors, Nobuyoshi Tamura Sensei, Toshikazu Ichimura Sensei & Hiroshi Tada Sensei.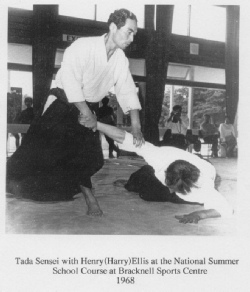 After working and training in Europe, Derek Eastman returned to Hampshire and established the Basingstoke Traditional Aikido Club.
1980s Andy Lyon began learning Aikido in Basingstoke in 1981. He was later to take over from Sensei Ellis as principal instructor at the Bracknell Aikido Club,
In 1982, Mark Eastman, son of Derek Eastman Sensei, began learning Aikido as a Junior.
Some US Air Force personnel, training at the Basingstoke Club, asked if we would open a club at the USAF Air Base at Greenham Common. Two of the USAF students, Dave Rogers and Al Montemar, achieved 1st dan.
1990 On returning to the US, Dave Rogers Sensei set up an Aikido club in Alamagordo, New Mexico.
1992 Senseis Derek Eastman & Henry Ellis merged the Basingstoke & Bracknell dojos, forming the Ellis Schools of Traditional Aikido (ESTA), also joined by Sensei Rogers' Alamagordo club.
The ESTA then joined the Aikido branch of the Martial Arts Commission, which were responsible to the British Sports Council for all martial arts within the UK. When the Sports Council was split into regions, we were founder members on the British Aikido Board (BAB), which would have direct responsibility to the now English Sports Council. Sensei Derek Eastman was elected to join Mrs Shirley Timms, the Board's Secretary, to represent the Board in the meetings with the Sports Council along with representatives of other martial arts.
1997 Brad Beeden began learning Aikido with Sensei Eastman and Sensei Lyon. And Mark Eastman earned his 1st dan.
2000 The ESTA resigned from the British Aikido Board due to growing dissatisfaction with the BAB's leadership and conduct, including their collusion in attempts to falsify the history of British Aikido.
2005 The Kenshiro Abbe memorial event celebrated 50 years since Abbe Sensei first introduced Aikido to the UK. Senseis Ellis and Eastman were on the organising commitee and both taught at the event which attracted over 1000 practitioners and attendees. Sensei Eastman's demonstration highlighted the different styles of many of the early Aikido teachers.
Senseis Ellis, Eastman and Rogers published the book 'Positive Aikido'.
2007 The Masahilo Nakazono Sensei Memorial day in 2007 had 250 aikidoka on the tatami with visiting instructors, Dan Thong Phong Sensei and Jiro Nakazono Sensei.
Senseis Derek Eastman, Mark Eastman and Brad Beeden all demonstrated at the event.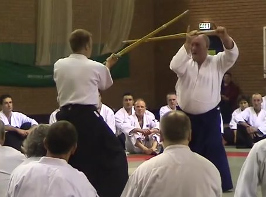 2009 In his 50th year of Aikido, Sensei Eastman won the Basingstoke 'Place to be Proud of' Individual Education Award in recognition of his dedicated and tireless work teaching Aikido.
2009-10 Senseis Henry Ellis, Haydon Foster and Derek Eastman were awarded Birankai 6th Dan by TK Chiba Sensei.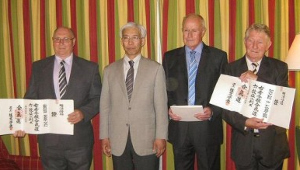 The following year, Derek Eastman was proud to stand with Senseis Haydon Foster & Henry Ellis at a private meeting, during which The Doshu, Moriteru Ueshiba, on his first visit to the UK with his son in attendance, presented the Aikikai ratification of the 6th dan grades.
The Doshu commented "This is becoming a rare event where I have been able to give signed Grades to the pioneers of Aikido who also have Grades signed by my Grandfather, O'Sensei Morihei Ueshiba."
2012 Derek Eastman and Henry Ellis revisited The Hut dojo, where they met with TK Chiba Shihan, the official Aikikai Hombu representative to Great Britain.
They were honoured to be presented with promotion to Aikido Shihan. The certificates were signed by the Doshu, Moriteru Ueshiba.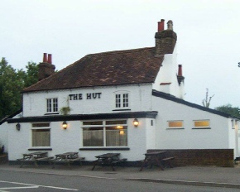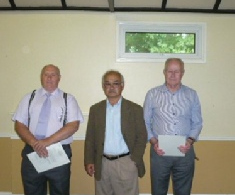 Senseis Eastman, Chiba and Ellis meet at the Hut